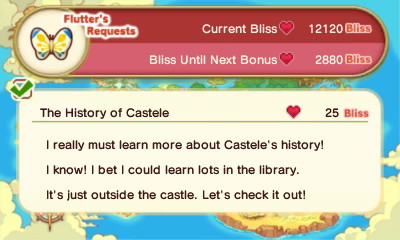 The article The History of Castele is a stub, which means that this article requires more information.
Please, feel free to add more information to this article.
Request description
Edit
I really must learn more about Castele's history! I know! I bet I could learn lots in the library. It's Just outside the Castle. Let's check it out!
Walkthrough
Edit
Go to the Castele Square. Just north of the center you'll find a statue, go around it. There on your right you'll find the Royal Castele Library (on your map the icon is a yellow bottle), go inside and continue north there you'll find Paige, go talk to her.
25 Bliss, Round Specs
Ad blocker interference detected!
Wikia is a free-to-use site that makes money from advertising. We have a modified experience for viewers using ad blockers

Wikia is not accessible if you've made further modifications. Remove the custom ad blocker rule(s) and the page will load as expected.