The article Roslyn is a stub, which means that this article requires more information.
Please, feel free to add more information to this article.
Roslyn
"A young idealistic rookie Paladin, full of dreams. Her motto is "brawn before brains"."
Roslyn, who is a Paladin, will sometimes assist the avatar in missions. Her master is Mustang. Roslyn will join you once you talk to her after becoming a Master Paladin and is the 3rd ally that can be obtained through the Paladin Life. In battle, Roslyn will sometimes give you a buff that improves Attack power.
Unlocks "DANGER!" / "NIGHTMARE!" (Adept)
Appearance
Edit
Roslyn has light brown hair and wears the stranded 'Novice gear' of Paladins.
Can Be Found
Edit
Roslyn can be found at the horse stables training.
Name
LVL
HP
ATK
DEF
MAG
ATK
MAG
DEF
Roslyn
100
730
265
350
175
215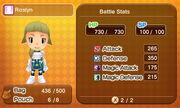 Ad blocker interference detected!
Wikia is a free-to-use site that makes money from advertising. We have a modified experience for viewers using ad blockers

Wikia is not accessible if you've made further modifications. Remove the custom ad blocker rule(s) and the page will load as expected.