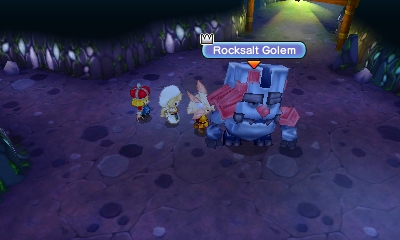 The Rocksalt Golem is a silver crown level boss which can be found in the Nautilus Cave. It's found early within the cave.
The Rocksalt Golem is alone in the area which in you battle him and is extremely slow. You are also given a decent space to fight him in, which makes this a fairly easy battle if you have the resources to battle him with.
Bounty Reward
Edit
Ad blocker interference detected!
Wikia is a free-to-use site that makes money from advertising. We have a modified experience for viewers using ad blockers

Wikia is not accessible if you've made further modifications. Remove the custom ad blocker rule(s) and the page will load as expected.