Mermaid Mail

Armour made using fish scales. Don't expect too much, and things will go swimmingly.
Rarity
Stats
Defence:
17
Defence good:
19
Defence great:
22
Defence top:
25
Magic Defence:
6
Special Effects
Water element +
------
Information
Buy price
3,200 Dosh
Sell price
3,000 Dosh
Sell price good
3,600 Dosh
Sell price great
4,200 Dosh
Sell price top
4,800 Dosh
Type
Armour
Buy from
Also see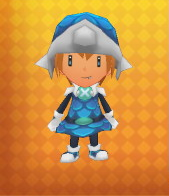 Ad blocker interference detected!
Wikia is a free-to-use site that makes money from advertising. We have a modified experience for viewers using ad blockers

Wikia is not accessible if you've made further modifications. Remove the custom ad blocker rule(s) and the page will load as expected.