This is incomplete.
Please feel free to edit this to add missing information and complete it.
Reason: Missing information and photos.
| | |
| --- | --- |
| | This article contains huge spoilers! |
---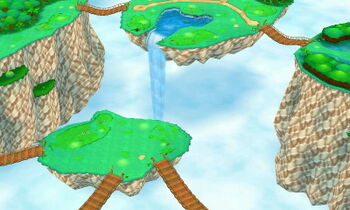 "A mysterious island suspended in the sky. The sun-soaked trees and ore found on the island are of exceptionally high quality."
Levitania , known as Terra Nimbus in the North American release, is a region in Reveria. Please Note you need REALLY STRONG WEAPONRY as well as a TON of Life Cures!!
To reach Levitania, you need to reach chapter 6 of the story after Crankshaft makes some improvements to the airship. After the main story is complete, you can access Levitania anytime by talking to Larkin to the east of Port Puerto Marina.
Also, after completing Chapter 6, you gain the ability to get dragon and bird pets (requires Origin Island expansion) by talking to the Pet Vendor in Central Levitania.
Central Levitania
Edit
Resources and Items
Edit
Insects
Flowers, Herbs and Mushrooms
Fruits, Vegetables and Animal Products
Ore, Wood and Fish
Treasure Chests
East Levitania
Edit
Resources and Items
Edit
Insects
Flowers, Herbs and Mushrooms
Ore
Treasure Chests
West Levitania
Edit
Resources and Items
Edit
Plushling Camp
Edit
The Plushling Camp is a town in Levitania populated with plushlings. You can buy various things there, as well as renting a Holiday Home from one of the plushlings. The Plushling Camp can be accessed from East Levitania.
Points of Interest
Edit
Save Point: Save your progress here.
Bounty Clerk: Turn in a bounty here.
Inn Master: Sleep or rest here to change the time of day, for a small fee.
Shopkeeper: You can buy items from this plushling. (see "Plushling Shopkeeper" section for items sold)
Salesplushling: You can buy a holiday home in the Plushling Camp through this plushling, as long as you have the Origin Island DLC and pay 200,000 dosh.
Plushling Shopkeeper
Edit
Talk to this plushling to buy items.
Ad blocker interference detected!
Wikia is a free-to-use site that makes money from advertising. We have a modified experience for viewers using ad blockers

Wikia is not accessible if you've made further modifications. Remove the custom ad blocker rule(s) and the page will load as expected.