The article Grassy Plains is a stub, which means that this article requires more information.
Please, feel free to add more information to this article.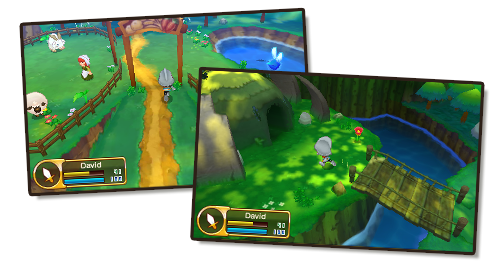 The Grassy Plains is a location in Reveria. The Grassy Plains is located near South Castele. Via the East Grassy Plains you can travel to the West Grassy Plains where Farley's Plantation and Florina's House are placed. On the west side the East Grassy Plains is Haniwa Cave. If you travel to the north east on East Grassy Plains, you reach the Elderwood and Mt. Snowpeak.
On the map, Haniwa Cave is marked a little bit off. Don't let that discourage you for it can actually be found very easily. You will need to visit Haniwa Cave for the first set of Missions of both the Mage and the Miner.
You can also reach Mt. Snowpeak and Tortuga by crossing the Grassy Plains.
Information 

Edit
"A sweeping pasture with flowers to pick and trees to chop down. Don't relax too much though, mother nature has some more monstrous creations that want to have you for dinner!"
Sub-zones
Edit
For an article about a specific area of the Grassy Plains, please go to one of the pages below:
Ad blocker interference detected!
Wikia is a free-to-use site that makes money from advertising. We have a modified experience for viewers using ad blockers

Wikia is not accessible if you've made further modifications. Remove the custom ad blocker rule(s) and the page will load as expected.