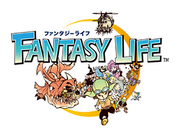 The Fantasy Life Wiki is a wiki-based website about the upcoming game Fantasy Life. It is the goal of this wiki to become the number one source of information for the upcoming game for the Nintendo 3DS.
Background
The Fantasy Life wiki has been founded on August 30, 2012 by KidProdigy. The wiki is created because of the upcoming Nintendo 3DS video game which is being co-developed by Brownie Brown and Level-5. There will be information added as soon that we can capture any information's about the video game.
Ad blocker interference detected!
Wikia is a free-to-use site that makes money from advertising. We have a modified experience for viewers using ad blockers

Wikia is not accessible if you've made further modifications. Remove the custom ad blocker rule(s) and the page will load as expected.