Chief's Bandana

A fine bandana worn by heroic Carpenters. Helps you become one with the lumber.
Rarity
Stats
Defence
Normal
28
Good
?
Great
?
Top
?
Divine
?
Magic Defence:
15
Special Effects
Dexterity +4
------
Obtaining
Speak to King Erik in the daytime once reaching the rank of Hero in the Carpenter life
Obtaining the Recipe
Reach the rank of God in the Tailor life
Check the mail to see a letter from Divinus
Read that letter to unlock the recipe
Notes
Also see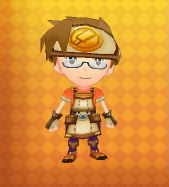 Ad blocker interference detected!
Wikia is a free-to-use site that makes money from advertising. We have a modified experience for viewers using ad blockers

Wikia is not accessible if you've made further modifications. Remove the custom ad blocker rule(s) and the page will load as expected.