The article Cerberus is a stub, which means that this article requires more information.
Please, feel free to add more information to this article.
Cerberus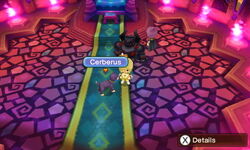 "A mythical beast summoned from the magical realm to protect the Dark Sultan. Loves walkies."
Character information
Gender
Male
Nickname(s)
Cerby
Hometown
Al Maajik
Relatives
Daemon (Owner)
Rank
Daemon's Pet
First appearance
Fantasy Life
Cerberus is the pet dog of Daemon, the Dark Sultan.
Location
Edit
Cerberus can be found in the Sultan's Throne Room in Al Maajik. During daytime he is sitting beside Daemon's throne, while at night he is playing with Sir Odin. Cerberus is a ferocious monster summoned to this world by Eldred....and turned into a dog.
Ad blocker interference detected!
Wikia is a free-to-use site that makes money from advertising. We have a modified experience for viewers using ad blockers

Wikia is not accessible if you've made further modifications. Remove the custom ad blocker rule(s) and the page will load as expected.