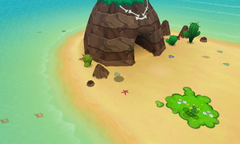 A small cave found in Cacto Cove. At the back of the cave is the portal to the Dark Void area.
Players who have completed the storyline and are at least Level 40 will receive a letter from Odin. From this point players are allowed to enter the Dark Void.
Enemies
Ad blocker interference detected!
Wikia is a free-to-use site that makes money from advertising. We have a modified experience for viewers using ad blockers

Wikia is not accessible if you've made further modifications. Remove the custom ad blocker rule(s) and the page will load as expected.